What is a Transfer Station?
Waste Transfer stations are where you can dispose of your house clean-outs, demolition debris, yard waste, concrete/dirt, and recyclable materials.
East Penn Sanitation, Inc is also a Pennsylvania DEP permitted transfer station open to the public for easy and convenient trash disposal. PA DEP Permit #101358.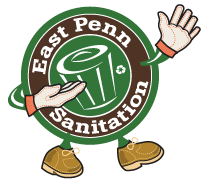 Key Transfer Station Services:
A convenient and affordable place to dispose of various wastes
Recycling of assorted materials available
The dumping area is inside and under-roof for easy in and out. No landfill mess!
Paved roads to minimize dirt and dust on your vehicle
Reasonable rates
Personal safety equipment for sale on site
The following materials are not permitted for disposal at the Transfer Station:
Tires, Batteries, Electronics, Liquids, Paints, Varnishes, Flammables/Combustibles, Sludges, Pressure Treated Lumber, Asbestos or Fuel Contaminated  Wastes (unless pre-approved), Unidentifed Wastes or Drums, and Mattresses. The customer is wholly responsible for any and all damages and/or fines incurred by these materials dumped at this facility.
THERE ARE NO EXCEPTIONS
HOURS:

 
Open to the public
Monday through Friday 7:00 AM – 3:00 PM.
The latest weigh-in is at 2:30.
PHONE: 610 759-8018 (Scalehouse only)
TERMS OF USE:
EAST PENN SANITATION, INC.'S ENVIRONMENTAL POLICY: The environmental policy states East Penn Sanitations' overall intentions and direction related to its environmental performance as formally expressed by top management. The environmental policy provides a framework for action and for the setting of environmental objectives, environmental targets, and metrics.
The EPS Environmental Policy 
1. compliance with all applicable environmental legal and other requirements,
2. accurate accounting of solid waste and recyclable materials
3. the proper identification of waste and recyclable materials throughout the site,
4. effective internal and external reporting of solid waste and recyclable materials
5. efficient and economic use and reuse of natural resources
6. continual improvement of operations and the management system,
7. continual improvement of employee performance
8. prevention of pollution,
9. profitable management of all activities.
Disclaimer
Errors may unintentionally appear.